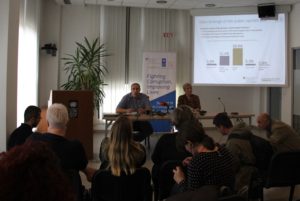 Corruption remains one of the most significant problems facing Kosovo today, argues the special edition of the Public Pulse on corruption released on 24 October.
The present Public Pulse on Corruption, focuses its analysis on perceptions of citizens of Kosovo on the prevalence of corruption, with particular emphasis on Kosovo public institutions on both central and local level.
Data collected through a general population survey with 1300 respondents and 500 targeted interviews with representatives of Kosovo public institutions from all management levels show that 18 percent of interviewed citizens perceive corruption as the most pressing issue. This percentage puts corruption as the second largest problem, trailing only unemployment which is perceived by 39 percent of the respondents as the most pressing issue.
In addition, this research also includes validation data from four thematic focus groups, namely focus groups with representatives of central level institutions, local level institutions, civil society and a focus group with gender activists dedicated to comparison of data with the UNDP survey on Gender and Corruption carried out in 2014.
Original article – http://www.ks.undp.org/content/kosovo/en/home/presscenter/articles/2016/10/24/corruption-remains-one-of-the-most-significant-problems-in-kosovo.html